Services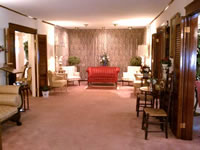 Types of Services
The Skeffington Funeral Home offers many different service choices to its clients. Some families chose a traditional funeral service including visiting hours (wake) while others prefer a service which does not include a mass at a church or possibly cremation instead. Itís a choice to be made by the individual and a personal one to be sure. Whatever the final decision please know that the staff at the Skeffington Funeral Home is there to ensure the services are according to the wishes of the deceased and their family. While the following options are common, unique requests are often made and our staff does its best to fulfill those wishes.


Customary Funeral Service
While changing with the times many families chose the customary funeral service. While innumerable options exist, such as including or excluding visiting hours/wake, customary funeral services include experienced management staff such as a licensed embalmer, funeral director and support staff. Customary funerals often include embalming and cosmetology and hair styling, viewing of the remains by the family and selected friends, newspaper notifications, planning church services, transportation and other support services. Families sometimes wish to continue the services to the cemetery and also to the grave as well. The final service offering is agreed to by the family prior to any costs being incurred.


Modified Customary Funeral Service
Options include a prayer service at the funeral home followed by burial or a memorial service at a church when the remains are not present. Also families with those traveling long distances often chose to modify the typical timeline to afford allowance for travel and their inherent delays. Utilizing a modified approach would allows for those eventualities. Conversely, if for any reason a timeline for burial is short (impending medical procedure, international travel, etc.) our staff can guide families thru an expedited burial in those select instances. Cremation Gaining in popularity in the past few years is the option for the remains be cremated. This option is offered by our processional staff who will guide the family thru the process and its many options such as memorial services and viewing options prior to the cremation. Contact us to discuss these choices as they are too numerous to list here.