Local Information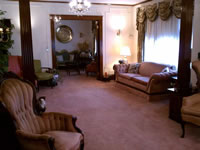 The Skeffington Home borders the Mount Pleasant and Elmhurst neighborhoods of Providence, RI.
Located near several health care facilities including Roger Williams Hospital, Veterans Memorial Hospital and Elmhurst Extended and Alzheimer's Care. The firm is mere miles away from Providence College, Johnston and Whales College, RI School of Design and Brown University.
Should any family member need overnight accommodations, we are located near all of the major hotel chains.
Should a family need a referral to an attorney, accountant, catering company or florist we are but a phone call away.
J F Skeffington Funeral Home
925 Chalkstone Avenue
Providence, RI 02908
401-331-3900