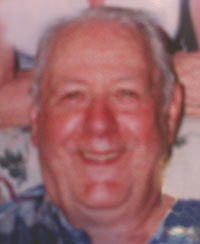 Edward B. McNally, 86, passed away Friday, November 9, 2012 at his daughter's home at Fenwood Avenue, Smithfield. He was born in North Providence, a son of the late James B. and Bessie (Jache) McNally.

Mr. McNally was employed by the Parkinson Mfg Company as a tool maker. He was a World War II United States Army Veteran.

Surviving are two sons Mark E.F. and Barry M.L. McNally and three daughters Callie A. Casey j, Tina M. Palumbo, and Denise D. Johnson. He was the brother of Gordon M. and Russell J. McNally and Lori M. McGee. Thirteen grandchildren and seven great-grandchildren. He was a father of the late Marlene M.A. Parillo and the brother of the late Grant F. McNally and Betty M. Blackler.

Funeral Services and Burial are private.

Click Here To View Condolence Messages

J F Skeffington Funeral Home
925 Chalkstone Avenue
Providence, RI 02908
401-331-3900