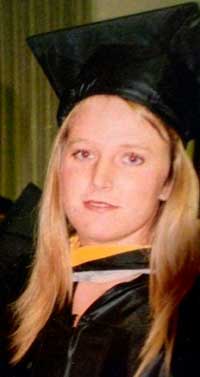 Kristen Cook, 43 years old, of Academy Avenue, Providence died at home Monday, April 23, 2012. Born in Providence, she was a daughter of Walter H. and Margaret E. ( Tracy ) Cook.

Kristen graduated from Mt Pleasant High School, Rhode Island College with a Bachelors Degree, Salve Regina University with a Masters Degree, and U. Mass School Of Law with a Juris Doctorate.

Besides her parents, surviving is a daughter Krystle M. Cook. Three brothers Gary J., David W. and Gregg M. Cook and a sister, Kerrin E. Cook. She was the aunt of Tallia, Serena and Gregg Cook.

A Mass of Christian Burial at St Pius Church, Eaton Street, Providence Friday at 10am. Relatives and friends are invited. Visiting Hours at J F Skeffington Chapel, 925 Chalkstone Ave., Providence Thursday 4-8pm.

Burial at RI Veteran's Cemetery, Exeter, RI.
Click Here To View Condolence Messages

J F Skeffington Funeral Home
925 Chalkstone Avenue
Providence, RI 02908
401-331-3900