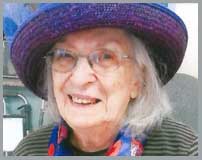 Mary Viola "Vicki" Elkhay, 89, passed away January 1st 2018, after a 17-year battle with Alzheimer's, in St. Elizabeth Home. She was the wife of the late William E. Elkhay. Born in Salem, MA, she was a daughter of the late Rene and Geneva (Maillet) Gagnon.

Vicki was a self-employed antique dealer. She was Catholic. She gets her gourmet palate from her French Canadian Heritage. She loved baking for her family, was an avid reader and had a passion for the opera.

Surviving are her children, William E. Elkhay, Mary E. Kupperberg and husband Jerry, John J. Elkhay, Thomas P. Elkhay and wife Mary Ellen. Sister of Jackie Ball, Carol Staid and husband Gene, Pat Varney and Robert Gagnon, 13 grandchildren and one great-grandson.

A memorial mass will be celebrated Saturday, January 13, 2018 in Holy Apostles Church, 800 Pipin Orchard Road, Cranston, RI at 2pm.

In lieu of flowers, memorials may be made to: Ross Elkhay Foundation, 1345 Westminster Street, Providence, RI 02909.

Click Here To View Condolence Messages

J F Skeffington Funeral Home
925 Chalkstone Avenue
Providence, RI 02908
401-331-3900