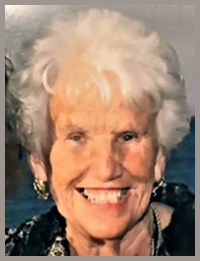 Maureen Janet (Oates) Sweeney, 86, of Narragansett and formerly North Providence, passed away peacefully surrounded by family on Saturday, November 18, 2017 at South County Hospital. She was the wife of the late Robert E. Sweeney and the mother of ten children.

Family meant everything to Maureen but the definition of family was anyone who was a friend and you knew it from the way she smiled and said, "Hello." She always had an extra seat and/or meal even at her crowded table. She was the life of the party and planned quite a few. She was the self-proclaimed President of the Rhode Island Delegation of Naples, Florida and planned along with many of her friends the popular "Rhode Island Night" parties around St. Patrick's Day.

Her heritage and Irish roots were deeply seeded in her heart and she passed this pride onto her children and grandchildren. She enjoyed watching and cheering for the local teams both professional and collegiate but especially enjoyed cheering on and supporting her grandchildren in their school and athletic endeavors.

Generous not only monetarily but also with her time, she was involved in many causes over the years, too many to list. She was behind the scenes in support of and involved in many of the decisions of the family fundraiser, the Get to The Point Memorial Fun Run for 16 years in memory of her son, Robert and Daughter, Maureen.

Her life was not always easy, with many ups and downs but she always found her way and her faith guided her on her journey. A regular at morning mass at the Christian Brothers for many years and a devoted Catholic.

Born in Providence, she was the daughter of the late Thomas F. Oates and Evelyn (Casey) Oates, owners of Oates Tavern on Douglas Avenue, North Providence. Early in her career, she worked as a teacher in the North Providence School District and then later as a substitute teacher in the district after raising her children.

She was a 1949 graduate of Elmhurst Academy and 1953 graduate of Salve Regina College. She was an active member of both the Elmhurst Alumni Association, Salve Regina Alumni Association, and Catholic Alumni Association.

She leaves four sons, Patrick M. Sweeney II and his companion, Colleen Prior, Thomas O. Sweeney and his companion, Diana Ducharme, Michael W. Sweeney and wife, Jennifer, John T. Sweeney and his wife, Mary; four daughters, Mary Kay Marks and husband, Casey, Anne L. Sweeney, Sheila R. Sweeney, Alice Elizabeth (Liz) Sweeney and son in law, Christer J. Cambriello. Her grandchildren, Patrick M. Sweeney III and his wife, Erin, Matthew R. Marks, Lucy T. Sweeney, Casey M. Marks, Tahler E. Cambriello, Karsen S. Cambriello, Connor R. Sweeney, Mackenzie M. Sweeney, Beatrice Pereira, Lilian Pereira, and three great-grandchildren, Finley R. Sweeney, Regan C. Sweeney and Justin Mullett.

She was predeceased by her son, Robert E. Sweeney Jr, daughter, Maureen J. Sweeney, her husband, Robert E. Sweeney, and her twin brother, Thomas F. Oates Jr.

A mass of Christian Burial will be celebrated in St Mary Star of the Sea Church, 864 Point Judith Road, Narragansett, RI on Saturday, November 25th at 10:00am to which relatives and friends are invited. Visiting hours in the J. F. Skeffington Chapel, 925 Chalkstone Avenue, Providence held on Friday from 4-8pm. Burial will be private.

In Lieu of flowers, memorials may be made to in Maureen's name to: Christian Brothers, 635 Ocean Road, Narragansett, RI 02882.

Click Here To View Condolence Messages

J F Skeffington Funeral Home
925 Chalkstone Avenue
Providence, RI 02908
401-331-3900