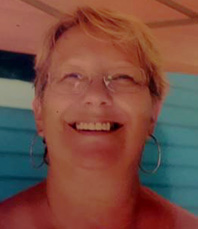 Rose M. Genereux, 56, of Chepachet, RI passed away peacefully on Saturday, October 28, 2017 surrounded by her loved ones after a long, courageous battle with cancer.

She is survived by her loving husband, Mark A. Paquette, two children, Joshua and Savanna. She is also survived by her three sisters, Louise, Sandra, and Denise, her one brother, Maurice, and four grandchildren whom she adored, #1 Owen, #2 Christian, #3 Bella Rose, and #4 Ava Raine.

Rose was an exceptional and generous person who always put family and friends on top of the list no matter the cost or the consequences. She loved a good glass of wine and was never without her travel mug filled with her favorite "Tea."

She will be greatly missed by many.

Relatives and friends are invited to a remembrance of her life on Friday, November 10th from 6:00 - 9:00 pm at Uncle Ronnie's Restaurant, 2692 Victory Highway, Nasonville, RI 02830.
Click Here To View Condolence Messages

J F Skeffington Funeral Home
925 Chalkstone Avenue
Providence, RI 02908
401-331-3900