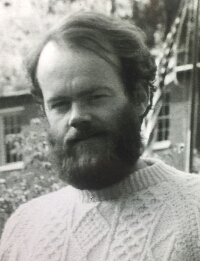 Edward M. Fogarty, 69 of Providence died at home on August 31, 2017. He was the beloved husband of Gail (Higgins) Fogarty for over forty years. He was born in Woonsocket.

Edward was the son of the late Raymond H. Fogarty and Mary (Hogan) Fogarty. He was a communicant of Saint Sebastian's Church in Providence for over thirty years.

He was a graduate of La Salle Academy (1965) and Providence College (1969) Magna Cum Laude and was officer of the student senate. Ed graduated from Georgetown University Law Center (1972) Magna Cum Laude where he was one of the editors of the Georgetown Law Journal. Ed was a member of the Washington D.C. and the Rhode Island bars. Ed was admitted to the District Court of D.C. and Federal District Court in Rhode Island. Ed was admitted to the U.S. Court of Appeals for the D.C. Circuit and to the First Circuit Court of Appeals. He was admitted to many other Courts of Appeals the United States. He was admitted as an Attorney and Counselor of the Supreme Court of the United States where he filed several briefs, one resulting in a Supreme Court decision in his clients' favor. He was a member of the American Bar Association and served on the national panel of arbitrators for the American Arbitration Association. He also worked as an arbitrator in the R.I. Superior Court. Ed was a law clerk for Judge Day, U.S. District Court, D. RI. For several years he was an attorney and a partner at Wilkinson Cragun & Barker, Washington DC. He also was an attorney and partner at Washington D.C. firms Baenen, Timme, DeReitzes & Middleton, and at Spriggs, Bode & Hollingsworth. Ed returned to R.I. in 1987 where he served as Legal Counsel to the Speaker of the R.I. House of Representatives, and as Legal Counsel to the Senate Majority Leader and later to the Senate President, retiring in December 2013. Ed was a well respected and esteemed lawyer.

Edward was on the Board of the Lt. Joseph P. Kennedy Institute of Washington D.C. For almost 30 years Edward was on the Board of Trustees of the Festival Ballet Providence where he served a term as president and currently served as vice president. Ed was a member of the Sons of Irish Kings where he served a term as Chief Steward. He was a member of the University Club in R.I. and D.C.

Edward was an avid Red Sox fan, knowledgeable of all baseball trivia. As a boy, Ed honed his athletic skills playing Little League and Babe Ruth ball. It was at this time the legend of the "Little Monster" began. Ed would say the glove never made an error, that behind every good glove is a humble and great player. Ed was a fan of the ballet and was honored by the Festival Ballet Providence. He loved gardening, dogs, giraffes, and Bob Dylan. Ed would welcome people and engage in conversation making them feel at home; he was a great storyteller. Ed loved his family and friends and was generous to both. Ed and Gail loved to travel and enjoyed visiting Italy and Ireland. Ed was erudite, loved literature, the arts, especially Second Story Theater, and Water Fire. Ed enjoyed and was skillful at Scrabble, Jumble, crossword puzzles and games. He had a keen sense of humor and was a great listener.

In addition to his wife Gail, Ed is survived by siblings Elaine Fogarty Pavao (Paul), Patricia Fogarty Pettit (Kevin), Margaret (Peggy) Fogarty Chella (Michael), and Raymond William Fogarty (Phoebe) as well as several nieces and nephews, several great nieces and nephews and five Godchildren.

Mass of Christian Burial will be on Tuesday September 12, at 10 am at the Church of Saint Sebastian, 57 Cole Ave., Providence R.I. Burial will be at Swan Point Cemetery. Visiting Hours are Monday September 11 at 4pm to 8pm at JF Skeffington Funeral Home, 925 Chalkstone Ave., Providence, RI 02908. In lieu of flowers, donations in Ed's memory may be made to Festival Ballet Providence, 825 Hope Street Providence, R.I. 02906, or to your favorite charity.

Click Here To View Condolence Messages

J F Skeffington Funeral Home
925 Chalkstone Avenue
Providence, RI 02908
401-331-3900